With Cyber Security Awareness Month (CSAM) kicking off in October, it's the perfect opportunity for businesses and consumers to sharpen their cybersecurity knowledge and proactively safeguard their data and devices. The 2023 theme, "Be cyber wise – don't compromise," encourages businesses and consumers to take straightforward measures to reinforce their cyber awareness.
While the focus is primarily on how to keep devices up to date, implementing multi-factor authentication, regularly backing up essential files, and utilising passphrases and password managers to keep company data safe, what planning have you done too protect your brand in the event of a cyber security incident?
---
Australia's cyber security landscape
Over the last two years, Australia's cyber security landscape has drastically changed with cyber security attacks being at an all-time high. According to the latest Annual Cyber Threat Report, cybercrime is reported on average once every 7 minutes, a 13% increase from the previous financial year.
Protecting your brand name during cybersecurity attacks is a crucial aspect of managing the reputation and trust of your organisation. According to research from QUID, it's clear to see the traction behind negative stories within the media. Brands such as Optus and Medibank have earned a high number of stories, mostly negative, reporting on the cyber incidents they faced last year.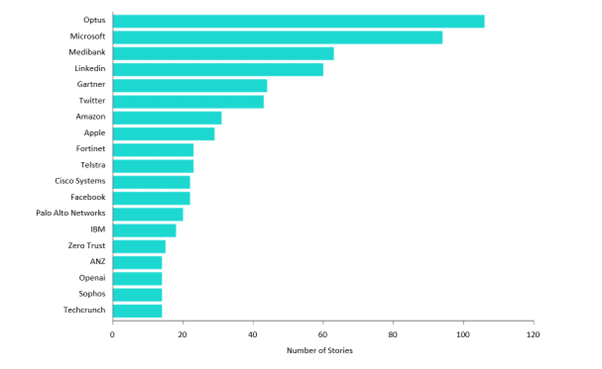 Furthermore, while the initial impact of a cyber incident can cost businesses millions of dollars to re-secure applications and services, there is also the impact on brand reputation and the investment needed to rebuild trust in the eyes of customers. 
Be prepared, not reactive
In a cyber security crisis, preparedness, transparency, and swift responses are key. Maintaining a company's brand reputation in the face of cybersecurity incidents demands a strategic blend of cybersecurity action plans and crisis communications.
Since the increase in cyber security attacks in Australia, businesses have started to prioritise their cyber security standards as well as develop technical responses to mitigate against attacks. However, to navigate the complexities of cybersecurity incidents this plan should be intertwined with a communications strategy that includes a handbook with draft media statements, templated emails, and a clearly defined approvals process. Having plans like this in place reduces the likelihood of rash, knee-jerk responses.
Recent research from Forrester found that trust was imperative for every company to see growth, whether they were start-ups, small businesses or well-established, large enterprises. Swift and accurate communication mitigates against confusion, demonstrates a company's commitment to resolving the issue and preserves the level of trust between customers and brands. By combining robust cybersecurity defenses with adept crisis communications, you can not only mitigate reputational harm but also maintain customer trust and brand integrity in an increasingly perilous digital landscape.
Communicating internal & external
Part of any crisis communications plan is maintaining open channels with both internal and external stakeholders, including customers, shareholders, vendors, partners, and the media. Ongoing and transparent communication is vital, informing stakeholders of the attack and the actions taken to reduce negative impacts.
Before this can happen it's essential to establish the who's-who that needs to be in the room when decisions are being made and plans executed. The team needs to be composed of IT specialists, legal advisors, and communication experts who cover the end-to-end of a business's exposure to cyber incidents.
An effectively structured crisis communication plan strengthens an organisation's resilience and ensures a coordinated response with tailored messages to different stakeholders. This could internal communications to employees to notify them of the situation while emphasising the need for confidentiality until the business has commenced its cyber response.
---
By combining strong cybersecurity measures with effective crisis communications, businesses can mitigate the damage from cyberattacks and uphold their brand's integrity, ultimately preserving customer trust and loyalty. To learn more about how you can establish a crisis communication plan, please reach out to the team via au.marketing@hotwireglobal.com .