Boosting Citrix's security stature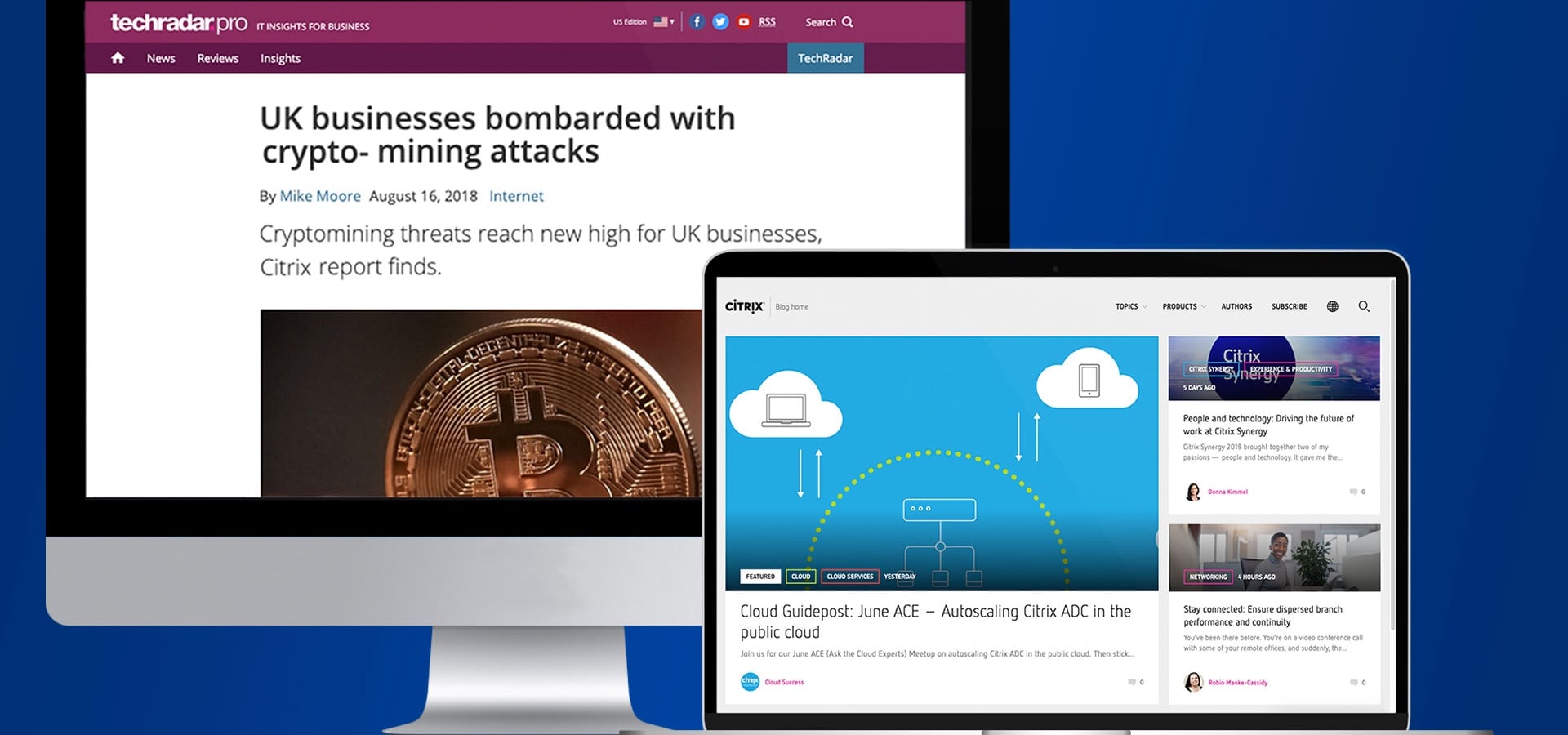 Discover
The Covid-19 crisis rocked every walk of life. Such abrupt, once-in-a-generation upheavals saw businesses forced to rethink their entire working models in moments. Citrix has been a key enabler of remote working for decades, so the business was well positioned to help organisations navigate such a significant change in working model.
Plan
With large companies, local authorities and government departments increasingly reliant on Citrix to enable continuity, we helped the business create targeted and locally newsworthy campaigns to ensure it remained a prominent player in the industry debate.
We crafted narratives discussing the practical, technological and business challenges associated with home-working, home-learning, home-everything and then provided Citrix expertise based on its heritage of helping organisations enable such ways of working.
Deliver
Commissioning industry research to evidence the challenges taking place and drawing from both the organisational and end-user perspectives of lockdown-based working, we launched dedicated media alerts to the market as key news drivers and conversation starters.
We then maximised high profile customer case studies with enterprises and the public sector to add further validity to the discussion.
Whether hosted on Citrix Blogs, or promoted through Twitter or LinkedIn, all content was refined and optimised across the most relevant paid, earned, shared and owned (PESO) channels.
89%
89% positive or neutral sentiment across all media coverage
8%
Competitive share of voice increase by 8% year-on-year, reaching 29% last year
80k
Paid social content alone drove around 80,000 click-throughs to Citrix-owned content and assets via social in the UK, as well as over 200 attendees to sponsored webinars
15%
Followers also increased on social by over 15% year-on-year – with 59% of those on LinkedIn in senior or director-level positions
Citrix also saw significant growth in EMEA during 2020, with Q2 and Q3 EMEA revenues up 15% and 17% respectively year-on-year.
"The UK is a significant market for Citrix, and the comms campaigns have been key in ensuring we remain front of mind among decision-makers in a year that has asked so much of technology. Communications alone won't win us business, but it's critical we're showing up externally as a credible source of industry insight and expertise. Hotwire has a clear understanding of our business and has been able to translate that into effective media campaigns to keep the spotlight on Citrix as a company that can help during a challenging time."
Darren Fields, VP of networking, EMEA (and responsible for UK business development in 2020) at Citrix
Hear it
first
Sign up to get the hottest headlines,
delivered straight to your inbox.

Let's get to work
Whether you're looking for a new communications consultancy partner or a career at Hotwire, we'd love to hear from you.